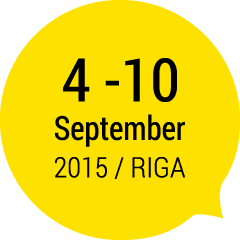 Programme
Shipbuilding and Other Joint Efforts
Nomadic School. 2nd Edition
4-10 September Different locations | For selected participants
Nomadic School is co-curated by Silvia Bottiroli (Santarcangelo dei Teatri) and Guy Gutman (School of Visual Theatre), as a collaborative and experimental platform for an investigation of the mutual relationships between performance and education. The 2nd edition of the Nomadic School will include seminars, talks, workshops and the possibility to follow the artistic programme of Homo Novus festival.
Nomadic School
Shipbuilding and Other Joint Efforts
Riga, Latvia, 4-11 September 2015
The 2nd edition of Nomadic School is an investigation of the multiple dimensions of engagement and shared learning. A Festival, a School are ships made by many for many. They are designed as intensive environments of constant friction and of sometimes harsh conditions. They are a calling to regroup and to voyage together on a mission. To become a pack, a tribe, shipmates. Yet simultaneously, as liminal spaces and modes of transit, both school and Festival must question the very alliance that form them and be suspicious of the mutual.
Nomadic School is an invitation to navigate within these intensities and oppositions, to trace but also to put them in suspension, to create voids and secret liaisons.
The programme of the school will journey through and around the programme of the festival establishing connections, inhabiting the spaces in between, taking walks, reading together, questioning the ways we work, think and learn together.
Addressed as a disposition rather than as a thematic, Nomadic school will trace paths where inhabitants and visitors, artists and students, locals and foreigners, humans and objects, can cohabit the very specific atmosphere of a festival, engaging into a collective research trajectory – namely, a "school" – that will ground its contents into the specific topics raised by the performances, the talks, the wanderings, the buildings, the time off and the time on of a festival meant as a public gesture and a school powered by friendship.
The program involves: Silvia Bottiroli (artistic director, Santarcangelo Festival), Guy Gutman (Director, School of Visual Theatre in Jerusalem), Livia Andrea Piazza (researcher, Brussels), Paride Piccinini (architect, Forlì), Tami Lebovits (choreographer, Tel Aviv), Philippe Quesne (artist, Paris), and a number of festival artists. The host of the Nomadic Nomadic school is New Theatre Institute of Latvia and International Festival of Contemporary Theatre Homo Novus. School's co-ordinator is Zane Kreicberga (zane@theatre.lv).
Participants: Kaynan Basel (Israel), Anat Bosak (Israel), Raisa Breslava (Latvia), Ildze Felsberga (Latvia), Māra Gaņģe (Latvia), Ragnheiður Harpa (Iceland), Freya Sif Hestnes (Norway), Nina Kuttler (Germany), Kristīne Logina (Latvia), Hallel Maliniak (Israel), Raphaé Memon (UK), Edgars Niklasons (Latvia), Thibault le Page (France), Sia Preminger (Israel), Ivo Serra (Germany), Yasmine Steinmetz (Israel), Nina Traub (Israel), Mārtiņš Zariņš (Latvia).
The School is part of the expanded performance space and scenography programme, Shared Space: Music, Weather, Politics, supported by EU programme Culture.
For selected participants
Different locations